In 2013 Books for Babies partnered with Dolly Parton's Imagination Library to send children ages 0-5 residing in Yamhill County a brand new age-appropriate book every month by mail.
Dolly Parton launched Imagination Library in 1995 to benefit the children of her home county in East Tennessee, USA. Dolly's vision was to foster a love of reading among her county's preschool children and their families by providing them with the gift of a specially selected book each month. By mailing high quality, age-appropriate books directly to their homes, she wanted children to be excited about books and to feel the magic that books can create. Moreover, she could insure that every child would have books, regardless of their family's income.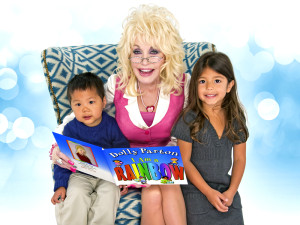 To date, over 1,500 books have been given to children across Yamhill County.
It is FREE to sign up your child (ages 0-5) for Imagination Library.  You must be a resident of Yamhill County, Oregon.
Sign up your child for Imagination Library
YES raises money to support the Imagination Library program.  We do this through important fundraisers like Bounty of Yamhill County, but we also welcome personal donations to fund the program.  Every $25 you donate will ensure one Yamhill County child receives a an age appropriate book in the mail every month for a year.  You can donate in increments of $25 below.